Pop Up Art Show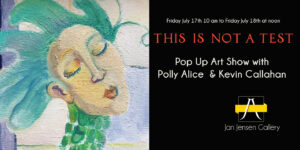 You Asked for it!! It's a Pop-up!! Begins Friday, July 17, at 10:00 a.m. 24-hour online art sale – pop-up prices. Grab your fave works online for one day only. Featuring Polly Alice and Kevin Callahan! This one day blitz is something you'll want to put on your calendar because it's fast, furious, and you only have 24 hours to get the art you want at these prices. Then it comes down.
"I am way excited to share this opportunity for you to pick up works from these two talented local artists! Imagine their pieces in your home . . . your office . . . We all deserve some artistic joy in our lives. This is an easy way for you to chose and purchase yours. I hope you'll take a quick minute and check out their stories and styles below. Thank you for your interest in local artists!" Jan Jensen
Sneaky 16 x 20″ acrylic on stretched canvas "I was sitting in an outdoor cafe in Barcelona, Spain in 2016 just watching people and enjoying the day when I saw this foot under an adjacent table. The title is a double-entendre referring, of course, to the subject, but also in the surreptitious way I obtained the reference for my painting." Kevin Callahan
Kēvin Callahan, author, artist, traveler hails from Drake University, and both the Chicago and San Francisco Art Institutes. He is an "accidental poet" and the author of many published short stories, and a novel. Kevin's award-winning artwork hangs in collections throughout the United States, and in Canada, Europe, and Israel. After a career in graphic design, Kevin published a novel and two short story collections. He maintains a studio and gallery, The Elegant Line, in Parkville, MO.
Mini Mermaid Dress 11 x 9 " Mixed Media Hand & Shibori dyed fabric hand quilted to 100 % cotton "When you come to the moment you are seen as who you really are—and then you know— you are beautiful." Polly Alice
Polly Alice merges oil painting and soft sculpture with imperfect stitching. "I love words and images and how they play together through symbols. I want my work to incorporate word pictures like dreams, tattoos, and the song that won't get out of your head. I want my art to grow and change with the viewer over time." Polly Alice's received her BFA in Studio Art from Messiah College near Harrisburg, PA, and her MFA from Hamline University in Writing. Her art has been published in US newspapers and magazines and is showing across the US. Polly's favorite thing is to tell stories– other people's, her own– maybe yours. Make a special order today or visit her at www.thatpollygirl.com.
Jan Jensen Artists | 1508 NW Vivion Rd, suite 304, 1508 NW Vivion Rd, suite 304,
Kansas City, MO 64118